About Satyam
About Satyam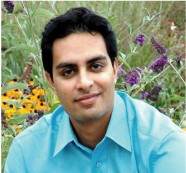 I am a Physiotherapist  registered with the Ontario College of Physiotherapists. My training in PT was at McGill University. where I graduated with great distinction. I learned CranioSacral Therapy from the Upledger Institute. I have also completed the 3 year training in Dr. Peter Levine's Somatic Experiencing (SE).
As a practitioner, I am committed to facilitating the healing of your Whole Person. This is what led me to further my education with the above training along with independently studying psychology, mythology, and practical spirituality.
Over the last 14 years I have developed (and continue to develop) an approach that holds space for your inherent healing process to lead you towards physical and emotional wellbeing. The first evolution of my work involved focussing primarily on integrating CranioSacral Therapy with my bodywork practice. Although this was very effective for many clients, more complex symptoms often involved past trauma. As this trauma naturally came up during a treatment session, it became clear that CranioSacral Therapy alone would not effectively help a client heal. Instead, I would require specialized training that could equip clients with the tools to renegotiate their trauma safely, while avoiding unnecessary cathartic emotional releases. This is what led me to study trauma by training in Somatic Experiencing.  Both Somatic Experiencing and CranioSacral Therapy are body-led tools and that is why they work so seamlessly together in my practice. Where one lacks the other fills the gap, and all the while my role remains to support your relationship with your body's wisdom.
In addition to the conditions listed on this site, I have a particular passion for helping people heal from what I call the "Trauma of Self-Worth." For those afflicted by this trauma and its resultant Life Addictions (endless pursuits to prove or validate our self-worth), I am committed to helping you explore what has happened, and return to the body where you can feel worthy as you are. For more information on this topic feel free to visit my blog here.
I currently live in the High Park Area (Toronto, Ontario) and can be reached at: satyam@craniosacraltoronto.com or by calling 416.915.8965.